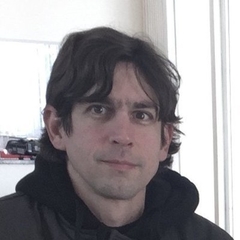 Adolfo Neto is an Associate Professor at the Federal University of Technology, Paraná. His research interests are software development communities and agile methods. His latest publications can be found on his Google Scholar profile.
He is co-creator and co-host of the Fronteiras da Engenharia de Software podcast, the Elixir em Foco podcast and Emílias Podcast - Women in Computing, all of them in Portuguese. He is also co-creator and co-host of the Hello, Erlang! podcast (now on pause).
He is a member of the Education, Training, & Adoption Working Group of the Erlang Ecosystem Foundation.
🆕 He is organizing Elixir Fortaleza Conf 2023.
Projetos de Adolfo Neto: his Substack blog in Portuguese
Ensino de Elixir e Erlang - page in Portuguese about my teaching initiatives on Elixir and Erlang
He gave a talk at Code BEAM America 2022.
He gave a talk at Code BEAM Lite A Coruña 2022: Aprendendo Erlang e Elixir através do Exercism e do Advent of Code.
He gave a talk at Code BEAM Europe 2022: Learning Erlang and Elixir through Exercism and Advent of Code.
He is at Mastodon: @adolfoneto@bertha.social (Portuguese) and @adolfont@genserver.social (English).
He is at BlueSky as @adolfont.bsky.social.
His emails are adolfo AT utfpr.edu.br and adolfo.utfpr AT gmail.com.
Mailing address: Av. Sete de Setembro, 3165 - Rebouças, Curitiba - PR, 80230-901, Brazil.